Ancient Split and Trogir Tour

Duration: Approximately 5 hours
Price: 65 Euro per person
Level of activity: Considerable walking
Highlights
Great value for the money
Exploration of the UNESCO towns of Split and Trogir
Local tour guide
Transfer is with comfortable SUV car
Inside visit of the Cathedral in Split
Tour includes inside visit of the Jupiter's Temple
Inside visit of the St. Lawrence's Cathedral
Admissions for the Cathedral, Jupiter's Temple, and St. Lawrence Cathedral are included
Family friendly tour
Children up to 6 years of age are free of charge (if accompanied by participating
Best of Split and Trogir Tour will take you on a unique exploration of city vibes, culture, history and local customs! Join us on a guided, walking tour of Split and Trogir.
Visit of Split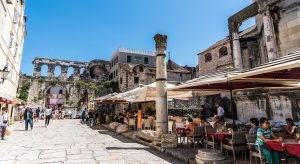 First, this tour will take you to the city of Split. Your visit of Split will offer you an unique opportunity to learn what lead to construction of Diocletian's Palace. This place is one of the most important roman palaces in the world because of its historical significance. Your experienced tour guide will take you around Diocletian's Palace and medieval part of Split. These areas are today part of UNESCO protection as a world heritage site. You will also enter St. Domnius Cathedral and Temple of Jupiter (Baptistery of the Cathedral).
Furthermore, Diocletian's Mausoleum, a magnificent burial site of this Roman Emperor, was converted into St. Domnius Cathedral. Hence it has a reputation as one of the oldest cathedrals in the world! Furthermore – mighty Temple of Jupiter became a baptistery in medieval times. Together, we will enter these buildings and explore their mysteries!
Also, you will see other main highlights of Split on this tour. We will proudly present you Peristil, Vestibul and Central substructures of Diocletian's Palace. Golden Gate, Cardo, Decumanus, Pjaca Square, Renaissance clock tower, Fruit Square, Venetian castle are other points of interest. Therefore, there is no better way to explore Split!
Visit of Trogir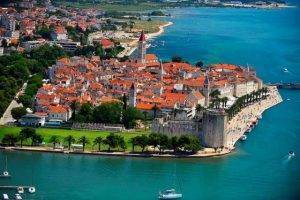 Ancient Split and Medieval Trogir Tour continues with a visit of beautiful medieval town of Trogir. This visit to Trogir includes a visit to St. Lawrence's Cathedral, one of the best preserved structures of the Romanesque art on the Adriatic coast. Many famous artists and architects since Middle Ages worked here, including Radovan, Nicholas of Florence (Donatello's student), Andrija Alesi and Ivan Duknovic. Also, while walking in Trogir you will have an opportunity to admire many other beautiful sites. Hence, these are Camerlengo fortress, City Hall, City Loggia and St. Lawrence square.
Important notes: Please wear comfortable walking shoes. On this tour you will walk along limestone paved streets, uneven surfaces, some steps would also need to be made. Furthermore, this tour includes pickup (by private vehicle) at your hotel in Split area. All admissions are included for this tour (St. Domnius Cathedral, Chapel of St. Lucia and Temple of Jupiter, St. Lawrence Cathedral in Trogir). Bottled water is provided for tour participants. Maximum number of participants on this tour is limited to 6 since we try to offer private tour experience. In case of a bigger group please contact us by the e-mail. This tour might operate in reverse due to operational reasons.