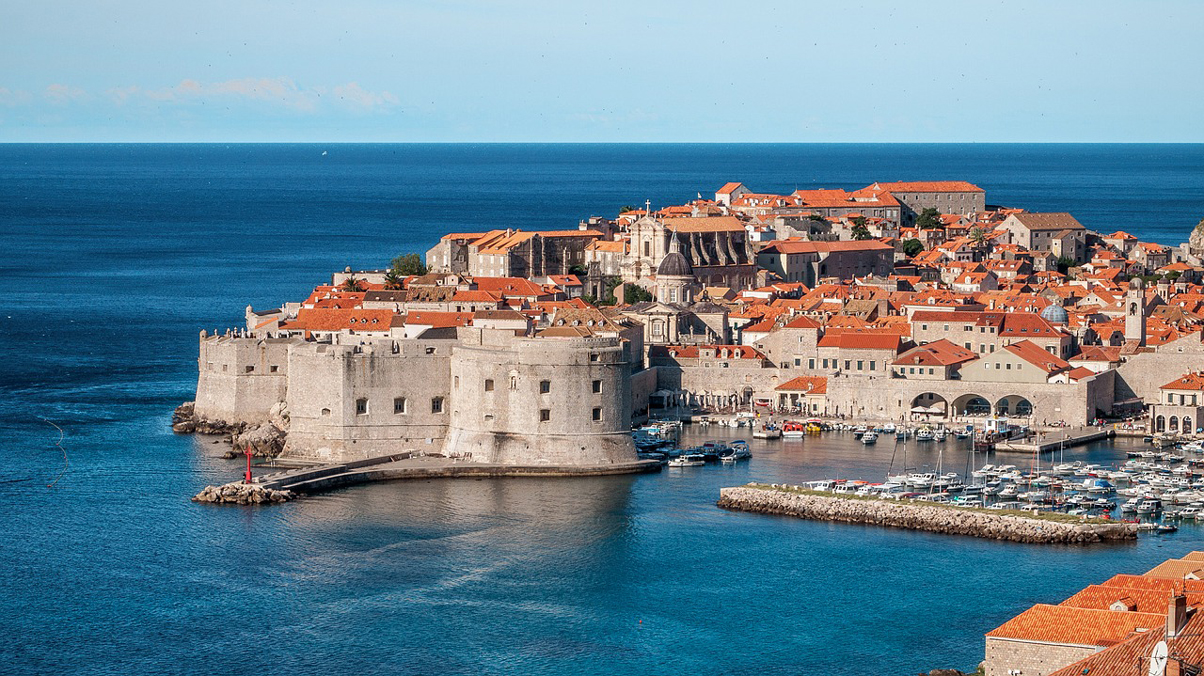 Getting from Dubrovnik to Split by Bus 2023 Guide
How to get from Dubrovnik to Split? That is one of the questions that we, locals in Croatia, get every tourist season. First, I want to say that there are many ways to do it. I have done the ride between these two towns for at least 50 times, and I would like to share my feedback with you. Therefore, in this article, I will describe how to get from Dubrovnik to Split by bus.
Many times readers place this question on my blog. Hence, I am putting this information together to help you dear traveler! I do this in order to give you a right and distilled information that will save your time. In fact, we will get to the point right away!
Getting from Dubrovnik to Split by Bus – table of content:
1. Dubrovnik to Split by Bus
Distance between Dubrovnik and Split is 220 kilometers (approximately 140 miles). On the map below I have chartered most feasible and shortest way between these two towns. This way is along D8 coastal road that connects Croatian littoral area.
Actually, this is the exact route that the bus takes. Buses follow Croatian coastline on the way north to Split. Since it's along the coast, this drive is very nice and scenic.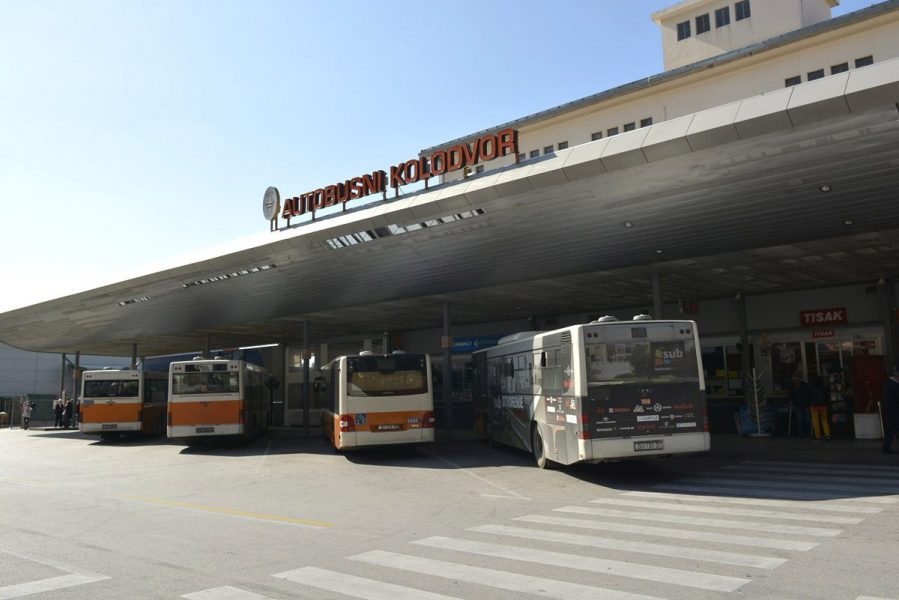 Traveling by bus is a great way of traveling if you are on a budget. You can catch a bus on a main bus station in Dubrovnik. This bus station is located in the port of Dubrovnik (Gruz). Hence, it is very easy to find it.
Above is the exact location of the main bus station in Dubrovnik.
Bus ride to Split lasts for 4,5 hours. Bus ticket price varies, however average price is 100 Kuna (approximately 14 Euro) each way.
Also, here you will find Dubrovnik to Split bus timetable and contact information. You can't buy tickets online, you need to do it directly over the counter. Of course, you can always call and check the availability.
While traveling, bus will make stops in some coastal towns (Omis, Makarska, Ploce etc.) in order to pick up the passengers. Bus ride from Dubrovnik to Split is very scenic and hence you will enjoy some nice sights of the Croatian Adriatic coastline.
There are no toilets on the buses. Despite of that, you will be able to use the toilets on the stops that the buses make along the way.
Driving through Neum in Bosnia and Hercegovina
Also, on this ride your bus will drive through Bosnian coastal strip that splits Croatia in two parts. Bosnian coastal area is 22 kilometers long, capital of this area is Neum. Because of that, you would need to present your passports to the police officers on the border crossing (when in transit through Neum). Definitely, you must bring your passports when traveling from Dubrovnik to Split by bus. Passport needs to have visa for Croatia (with multiple entries).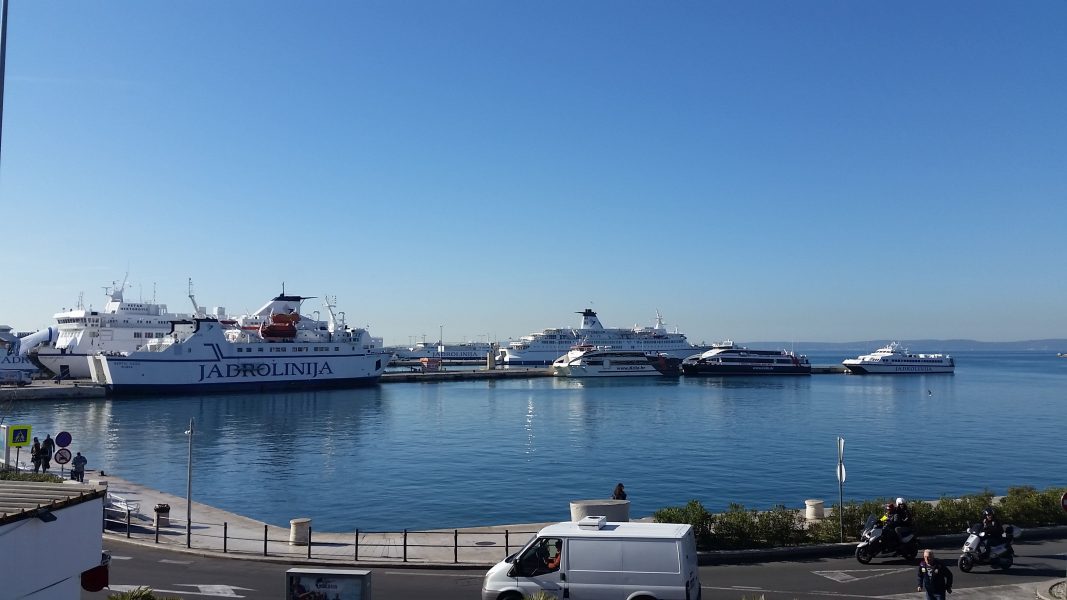 Upon arrival to Split, buses stop on the main bus station which is in the ferry port of Split. In addition to that – here is the exact arrival location.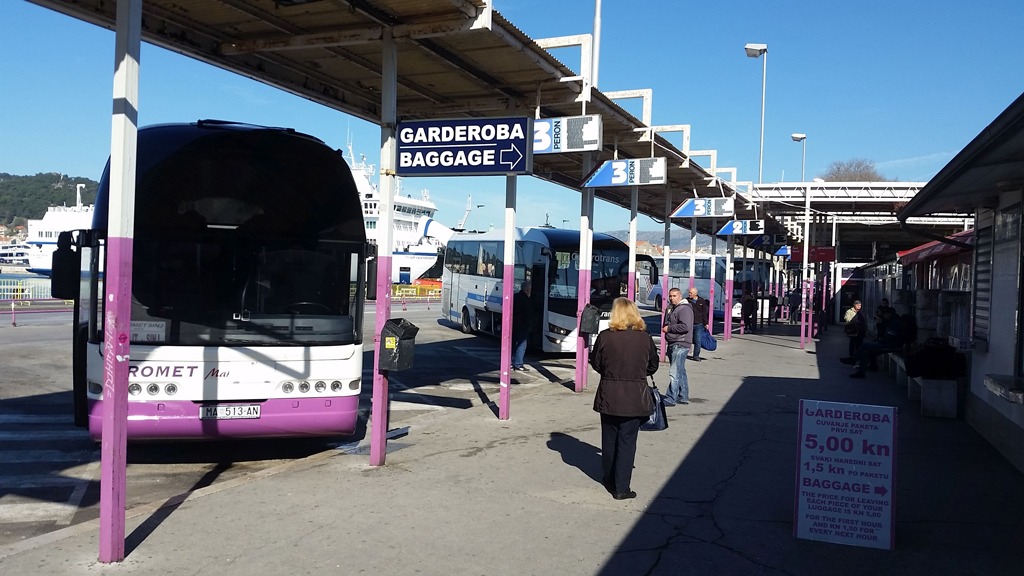 TOP TIP:
Main bus station in Split is located in the Port of Split. It is centrally located and for that reason it is easy to take buses to other parts of Split. Additionally, here is the link of the local bus provider in Split (Promet) with the timetable of the local buses. Also, train station is at the back of the bus station. Ferry port of Split is just across the bus station.
2. FAQ
What much is bus from Dubrovnik to Split?
100 Kuna – approximately 14 Euro each way. This is average cost of the bus ticket from Split to Dubrovnik. In addition – bus tickets can be purchased only directly, over the counter.
Dubrovnik to Split bus vs ferry?
Both! Buses and ferries are affordable and very reliable. Here is a link to Dubrovnik to Split Ferry and Catamaran Guide where you can get all the information about getting to Dubrovnik from Split by ferry and catamaran.
How long is the bus ride from Dubrovnik to Split?
4,5 hours is average bus ride from Dubrovnik to Split. Bus ride is along the very nice and scenic Adriatic coast.
Do I pay for the luggage on the bus?
Yes. Average charge for the piece of luggage is 10 Kuna (approximately 1,5 Euro). Luggage will be stowed in the bus bunker. You don't pay for carry on bags.
3. Conclusion
I hope that I have posted some useful information that might help you to organize your bus journey from Dubrovnik to Split. If you have some questions, please feel free to post them in the comments section. I will gladly reply! Finally, I wish you a wonderful holiday in Croatia!