Split to Hvar Ferry and Catamaran Guide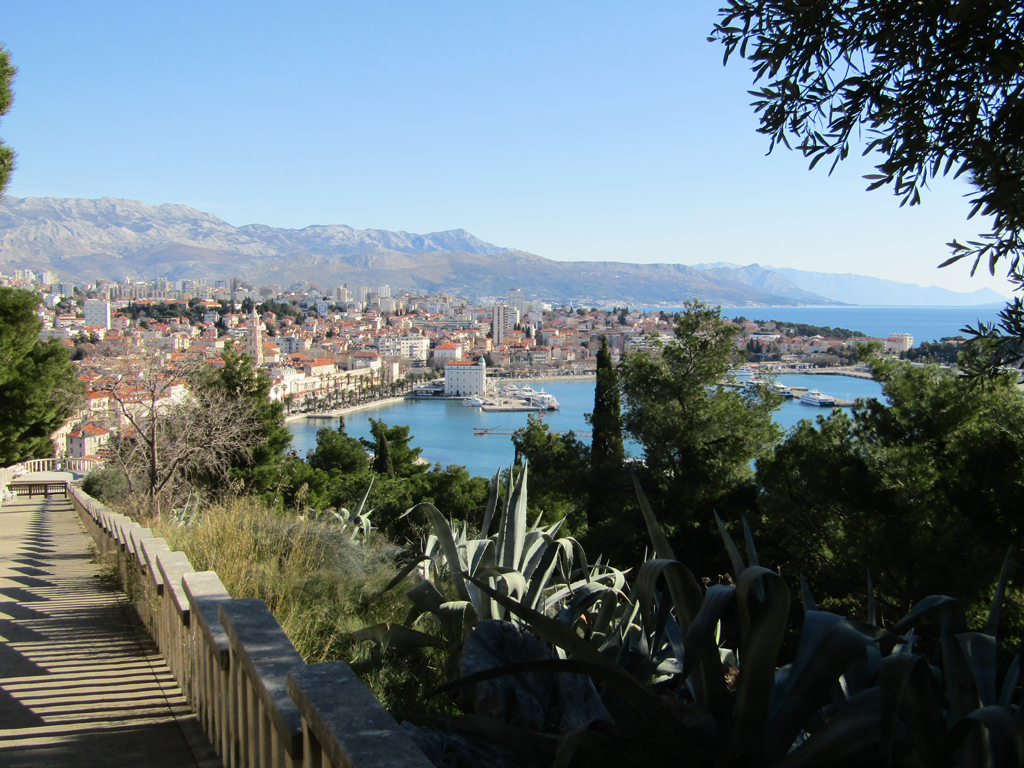 Split to Hvar Ferry and Catamaran 2023 Guide
Hvar is one of Croatian hot spots, everybody want to go to this beautiful island. Often, visitors that come to Croatia ask me how to take ferry from Split to Hvar? Many times they place this question on my blog. Sometimes it's not easy to repeat the same information all the time. Therefore, I am putting this information together to help you dear traveler! I promise that I will try to be as concise as much as I can. I do this in order to give you a right and distilled information that will save your time.
1. Ferries from Split to Hvar
There is only one company providing ferries that connect Split and Hvar island. Name of this company is Jadrolinija. It is owned by Croatian government. Even though main tourist season in Split lasts just for 6 months, Jadrolinija ferries run all year round. Moreover, Split to Hvar ferry runs 3 times a day in the winter time. Of course, ferries are more frequent in spring, summer and autumn.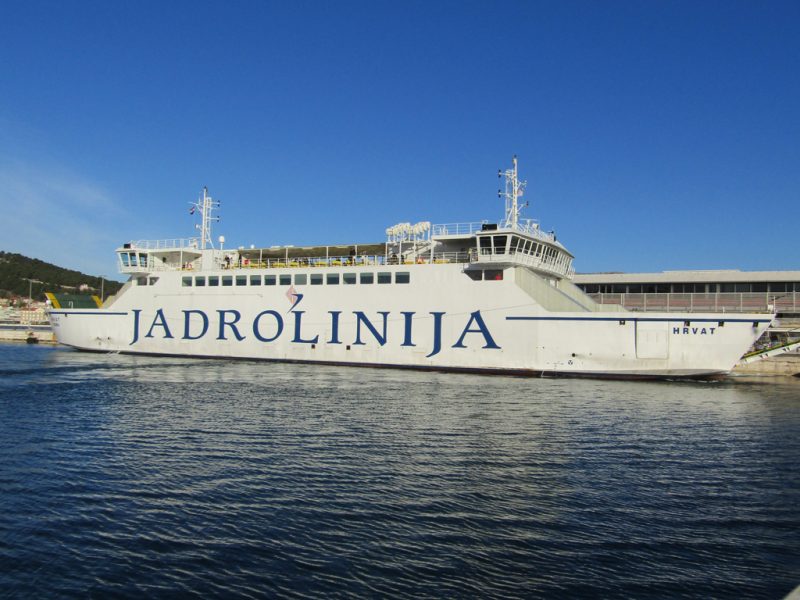 Ferries take passengers and cars likewise. During the summer months (June, July and August) it is recommended to be in port at least 1 1/2 hours before the ferry departure. It's important to realize that this applies only for the passengers that go to Hvar by car and want to board their vehicles on the ferry. Summer is the busiest time of year in the port of Split, and therefore you need to line up early to board the ferry on time. If you are traveling without the car, just as passenger, be there half hour early. That would do.
Here is the exact location of the ferries that go to Hvar from Split. These ferries meet on the Pier of St. Peter (Gar sv. Petra in Croatian) in Split.
My recommendation to you is to buy ferry tickets online. That is easier than do it over the Jadrolinija counter. Therefore, here is a link to Jadrolinija ferry ticket online purchase site.
Also, on this site you will find updated prices for cars and passengers in 2020.
Arrival to Hvar island
Ferries land in Stari Grad town which is on the north side of Hvar island. From there it is easy to go to other towns (by car) on the island (Hvar town, Vrboska, Jelsa, Sućuraj etc).
Many passengers that land in Stari Grad want to go to Hvar town (main tourist attraction on the island). You can do it by a taxi or private transfer from the port of Stari Grad. Cost for transfer is approximately 40 Euro per transfer.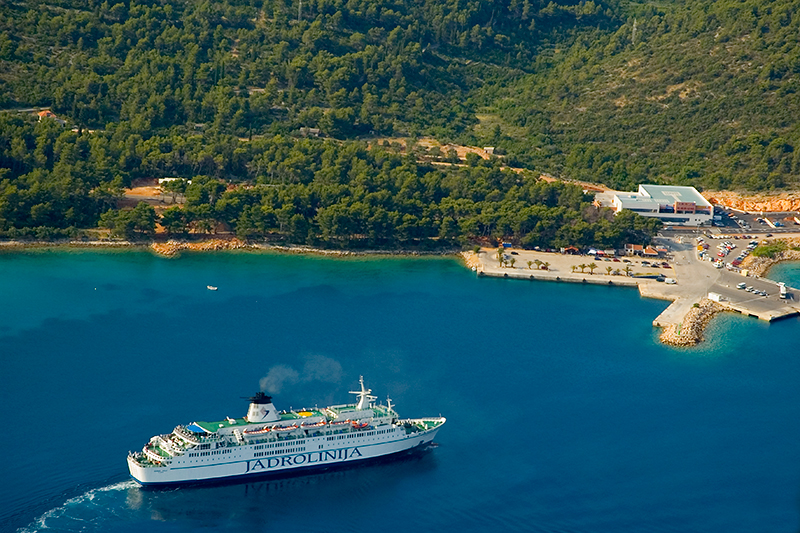 TOP TIP:
Also, you can save some money and take the public bus from Stari Grad ferry port to Hvar town. That is way cheaper than a private transfer. You will see the buses once you leave the ferry (on the right hand side in port). You can buy a ticket on the bus. Ticket price is 5 Euro/person. This bus will take you straight to Hvar town. Buses stop behind St. Stephen's Cathedral in Hvar town. With this in mind – here is the link to bus timetable.
Catamaran is also a great option when we speak about transfers to Hvar. It departs from the port of Split and it takes passengers straight to Hvar town. Many visitors that go to Hvar island go straight to Hvar town and spend their vacation there. Catamarans are air conditioned and the ride to Hvar town lasts just for 1 hour. Hence, catamaran is very popular among the travelers and island visitors. However, I have to mention that catamarans take only passengers, cars can't be boarded on them.
As for the luggage is being concerned, you can leave it on the racks that are available once you board the catamaran. So, luggage is not a concern at all. There are two companies providing this catamaran service, and those companies are: Jadrolinija and Kapetan Luka. Catamaran quality and size is about the same. Price is the same too: 20 Euro per person each way (approximately). Each catamaran holds a maximum of 400 passengers.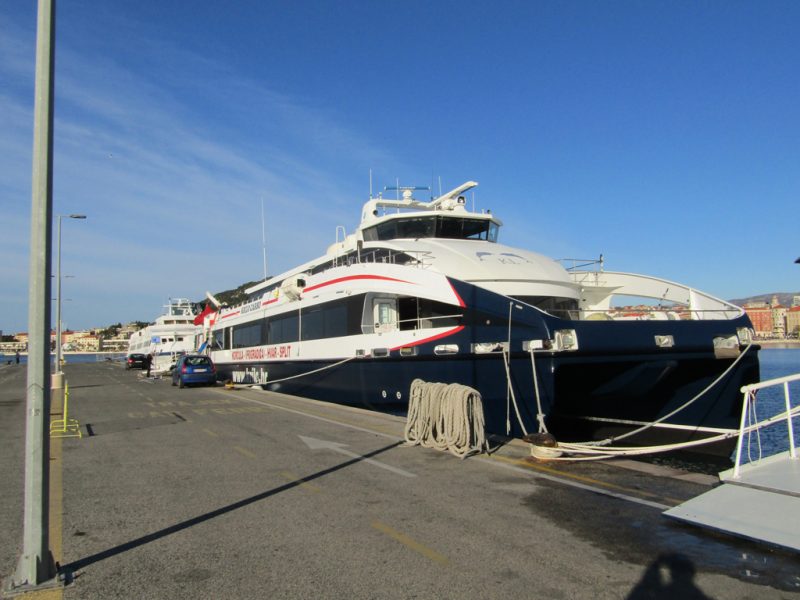 Jadrolinija – is the national ferry and catamaran provider. Here is Jadrolinija official web site where you can see the catamaran schedules and prices. Use the same page for booking.
Kapetan Luka – is privately own provider of catamaran services in Croatia. Their services are not available all year round. They operate from 01.04 until 31.10. Therefore you can book them for those dates only. Finally, here is Kapetan luka offical website where you can see catamaran schedules and prices. Use the same page for booking.
TOP TIP:
Also, these companies meet their passengers on different places in the port of Split:
Jadrolinija – their catamaran passengers meet on the Pier of St. Nicholas (Gat sv. Nikole in Croatian). Here is the exact Google location of the Pier of St. Nicholas.
Kapetan Luka – their catamaran passengers meet on the Pier of St. Peter (Gat sv. Petra in Croatian). Here is the exact Google location of the Pier of St. Peter.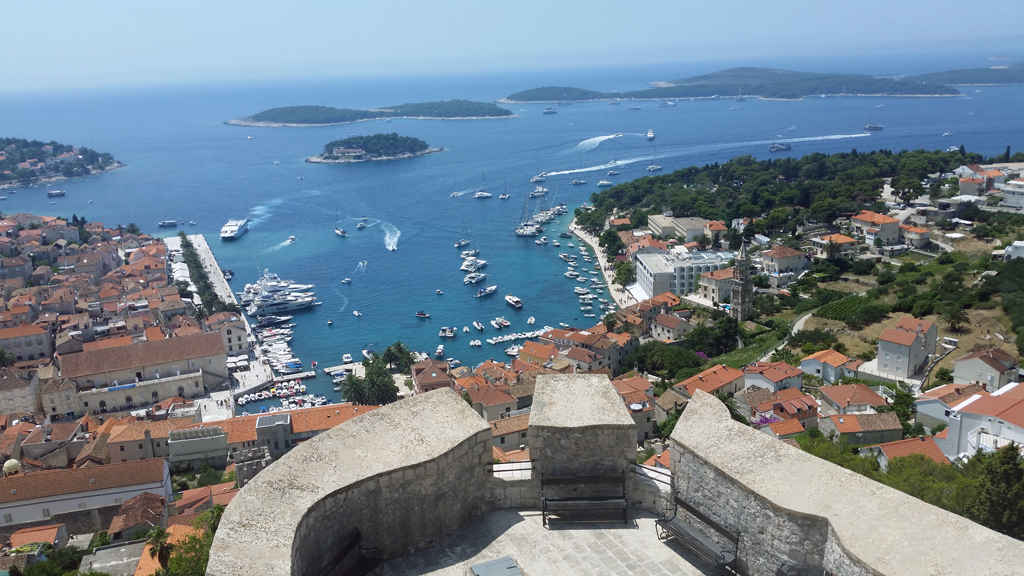 Finally, we got to this part. Private boat transfer to Hvar is by all means the most convenient way of traveling to the island. There is also a huge demand for this service. Therefore, there are many companies offering this type of service. I have used the services of Atlantis Marine Company many times and I was always happy with them.
However, as I said, there are many companies on the market, supplying these services. Hence, I would recommend you to do your own research on this subject.
TOP TIP:
Definitely, this is the most expensive way of traveling and you really have to look into it deeply (we all have our budgets, ways of traveling and idea of a great holiday). Of course, take your time when doing this.
How do I take Split to Hvar ferry?
Jadrolinija is government owned company that provides ferry services in Croatia. Ferries that depart from Split to Hvar meet on St. Peter's pier in Split. In the article below you will find all the information about the ferries that connect Split to Hvar.
How long is the ferry ride from Split to Hvar?
Ferry ride from Split to the port of Stari Grad on Hvar island lasts for approximately 1 hour and 45 minutes.
What is Split to Hvar ferry timetable?
What is Split to Hvar cost of ferries?
How do I book Split to Hvar ferry tickets?
Both companies (Jadrolinija and Kapetan Luka) offer pretty much the same catamaran service to Hvar. You can buy tickets in their booths that are located in the port of Split. However, I suggest you to book the tickets online by using the links from this article. After all, this is definitely more convenient and you will skip the lines.
Conclusion – All right dear reader! I hope that I've posted some useful information here, information that might help you to organize your journey from Split to Hvar. If you have some questions, please feel free to post them in the comments section. I will gladly reply! Finally, I wish you a wonderful holiday in Croatia!