Ten Top Things to do in Split Croatia
What are things to do in Split Croatia?
This is a question that I get very often since live here in Split, Croatia. I was always answering this question individually. Finally, I got some time to write an article about this topic. I hope that here you will find some interesting information about this beautiful city. I have compiled "Ten Top Things to do in Split Croatia" for your dear traveler. Enjoy your reading!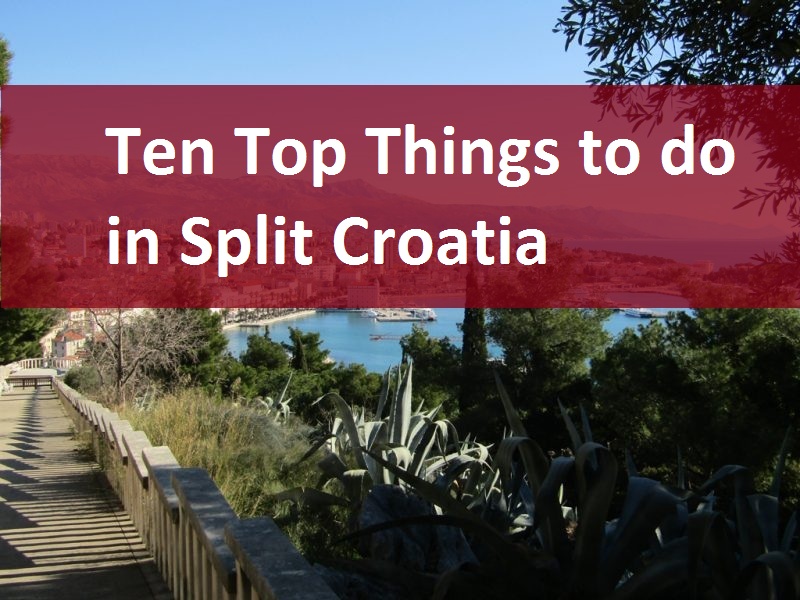 Things to do in Split Croatia – why is Split so interesting?
Split is a beautiful Mediterranean city located on the central part of the east Adriatic Coast. It sprawled from the roman palace of the emperor Diocletian. Here is a link to a great article about Diocletian's Palace in Split if you want to read more about it. This is the only city in the world that grew out of the roman imperial palace and hence attracts the visitors from all over the world.
Of course, beautiful Croatian coastline with more that 1100 islands is the main attraction for tourists and travelers that visit Croatia. Split is right in the middle of Croatian coastline and therefore a great springboard for the exploration of Croatian coast. However, if you decide to stay in Split and spend few days exploring it, you will not regret it. There are at least 50 things to do in Split Croatia, but I will focus on the most important ones. Let's not hesitate anymore, let's go right to the point!
Table of content:
1. Ten Top Things to do in Split Croatia
1. Visit Diocletian's Palace
Diocletian's Palace is the best preserved roman palace from the late antiquity in the world. And it's right here, in Split! This is a very unique palace, a first place that was protected by UNESCO in Croatia (in 1979). It was recognized as UNESCO World Heritage Site since this roman imperial palace evolved into medieval town of Split in the 7th century AD (truly unique event). Therefore, you can still walk the streets of this beautiful roman structure.
Definitely, this is nr.1. thing to do in Split. Main sites of the palace include Vestibule, Peristyle Square, Jupiter's Temple, Golden Gate, Cathedral of St. Domnius, Substructures of Diocletian's Palace etc. However, I strongly suggest you to take a guided walking tour in the palace. Main reason for that is for you to get the historical background of this fascinating structure.
Top Tip
Old town in Split can be extremely busy during the peak of the tourist season. Therefore, I suggest you to visit the old town really early in the morning in the summer time (if possible). Also, by doing this you will avoid the summer Mediterranean heat.
2. Do a Private Split Walking Tour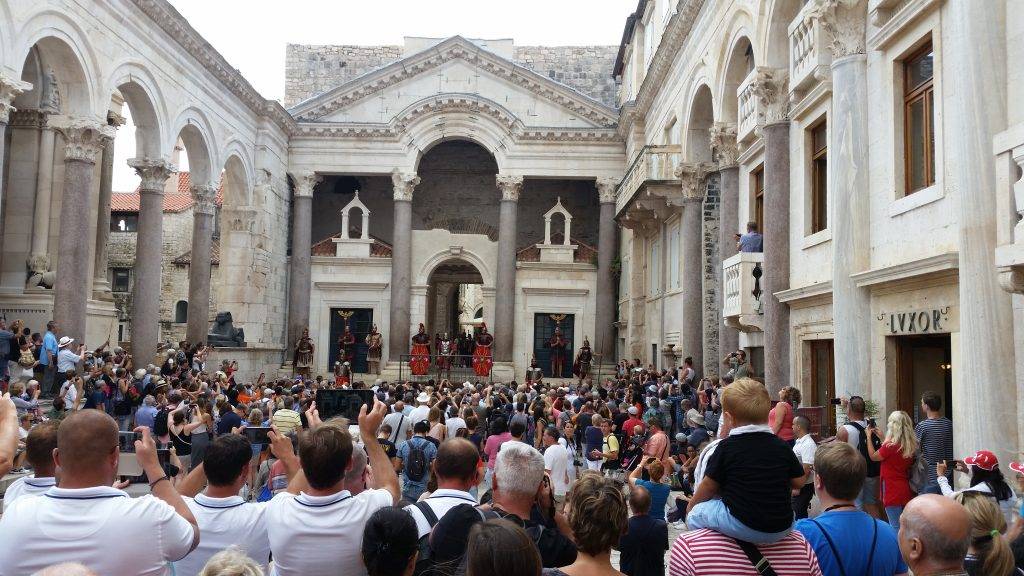 If you want to avoid being stuck on a massive group tour (see above) book a private tour experience in Split. Hence, we are moving to the Private Split Walking Tour. There are many private walking tour that are being offered in Split. However, I suggest you to take a Private Split Walking Tour. Why do I suggest this particular one?
First of all, I definitely think it offers good value for the money. Duration of the tour is 2 hours, which is not neither too long nor too short. Of course, main reason why I think you should take this tour is because it will take you to the main highlights of the old town in Split. Unlike most of the walking tours in Split this one includes the visit of the Cathedral and Jupiter's Temple. Admissions for the Cathedral and Jupiter's Temple are included too.
Also, this is a custom made tour just for you and your group. With that in mind you know that no other participants will join your group. That is great, since the guide is there just for you, and you do the tour at your own pace. Perfect!
Top Tip
Always look for a private tour that includes admissions for various sites (cathedrals, temples, etc). Although many tours in Split seem to be very similar, try to select a tour that will give you the best value for the money.
3. Enter the Cathedral of St. Domnius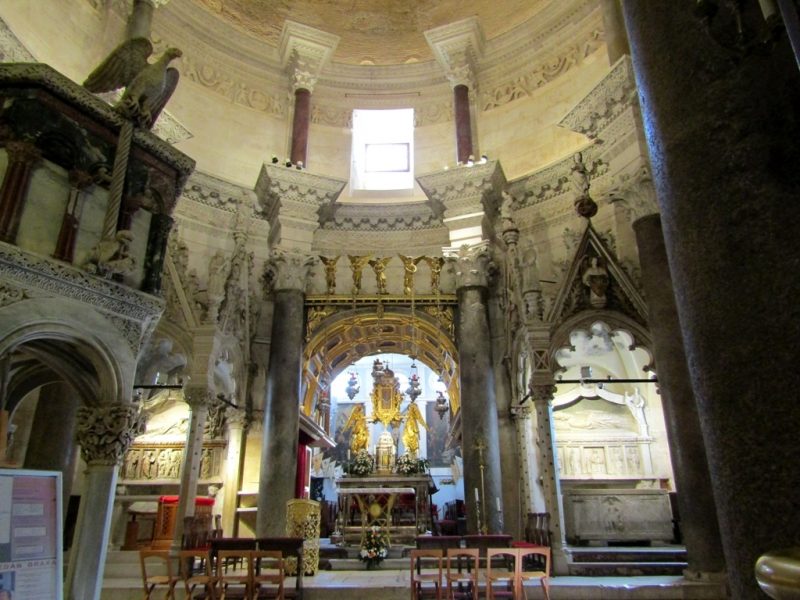 This is a must visit site, since the Cathedral of Split is one of the oldest cathedrals in the world. Octagonal building, that is being used as a cathedral, was actually the burial site of the Roman Emperor Diocletian. Hence, this building has 1700 years of history. It was converted into cathedral in the 7th century A.D.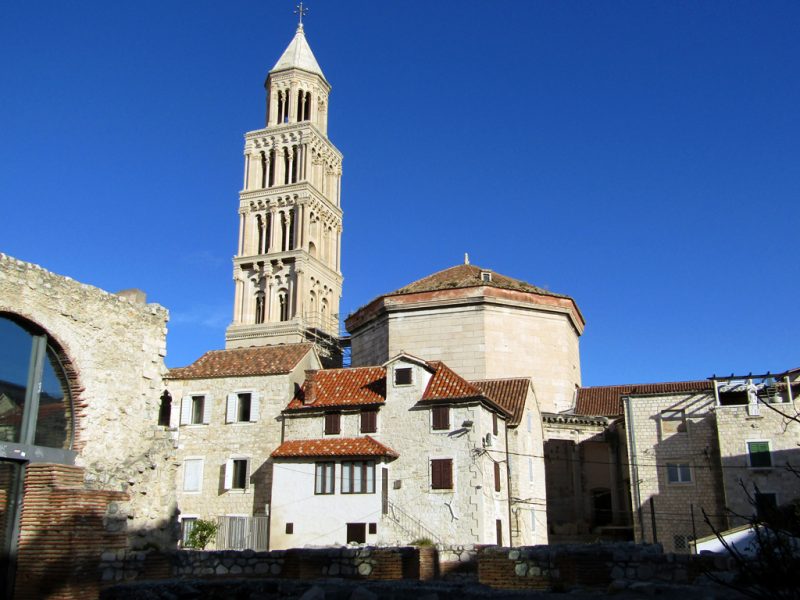 If you booked Private Split Walking Tour, you don't have to worry about visiting the Cathedral of St. Domnius (Split Cathedral). This tour will take you inside the cathedral. However, if you opt to go to cathedral on your own, you can buy a ticket and visit it. Also, you have an opportunity to climb the belfry of St. Domnius, but you would need to buy a separate ticket for it.
Top Tip
In the light of previous information, a good tip for you would be to buy a combined ticket for this site. In other words, this combined ticket includes admission for the Belfry, Cathedral Treasury, Cathedral of St. Domnius, Jupiter's Temple and the chapel of St. Lucia. Combined ticket price is 45 kuna (approximately 6.5 Euro).
4. Visit Pazar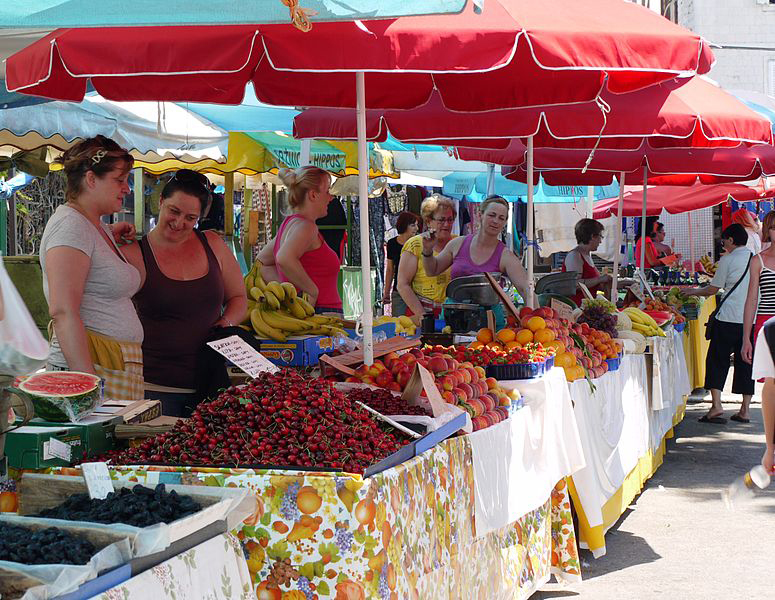 By all means you should not miss this place! Pazar is a farmers market that is located in the very heart of the old town. It is a very picturesque and vibrating place where you could buy and sample some local food products. Its vibe is unique, don't forget to negotiate the prices with the locals!
Top Tip
Always look for seasonal food. That means that you will get it in a form of a fresh product. E.g. look for strawberries and cherries in May, peaches in June, July and August etc…
5. Go for urban swim in Split

Split is a great town for urban swim. What does it mean? Split is located on the Adriatic coast. As a result of that, there are some beaches within walking distance of the old town. Bacvice beach is a sandy beach which is the closest to the old town. It is located at the the end of the ferry port, 1 km away from Diocletian's Palace. Although, Bacvice beach is very close to town center, I would suggest you to go for a swim at one the pebble beaches that are located at the slopes of Marjan hill. Sea is clearer here, all beaches here are very scenic and beautiful.
Top Tip
Kasjuni beach is a pebble beach located on the south slopes of the Marjan Hill. It is approximately 3 km (1.8 miles) away from the old town. However, you don't have to walk all the way to it. You can simply take a local bus nr. 12 from the monastery of St. Frances on Riva promenade (Sv. Frane in Croatian). Here is a link with the bus 12 timetable.
6. Sample some local food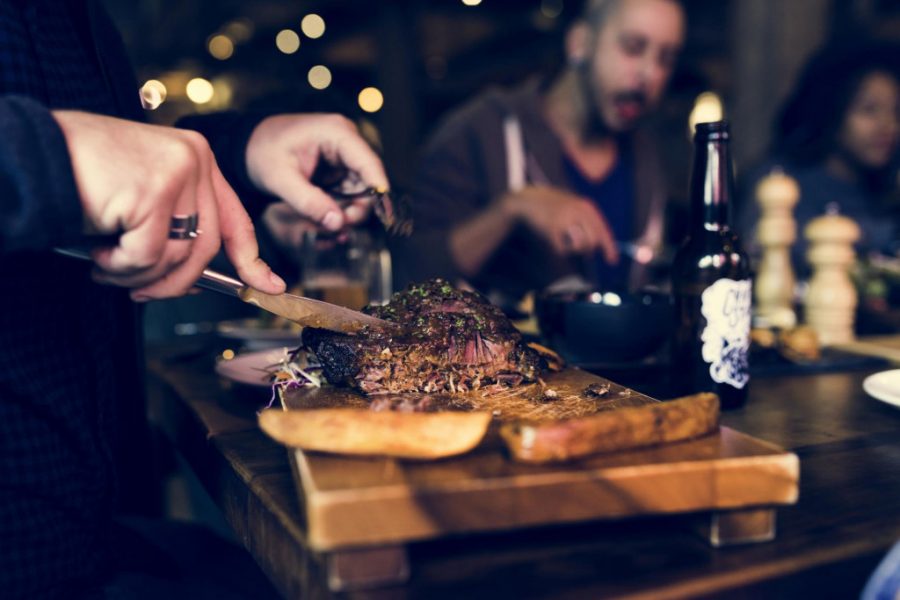 In the past few years, restaurant scene in Split has grown a lot. Great influx of tourists and travelers from all over world has impacted its growth. Mostly, these restaurants serve international food. However, you can still look for traditional dalmatian (Croatian) food in some restaurants.
And here are typical local food delicacies in Split: pasticada (local beef stew), crni rizot (black cuttlefish risotto) and soparnik (local savory pie). Of course, you can get this type of food at some local restaurants in Split.
Top Tip
Best local restaurants in Split (where you can find local specialties) are: Konoba Varos, Villa Spiza, Corto Maltese and Articok. Generally speaking, most of the restaurants in Split are good. However, some of the restaurants (mainly on the main locations) are more expensive that the others. To sum up – go along with the list that I gave you and you will be happy with the value for money ratio!
7. Hike Marjan hill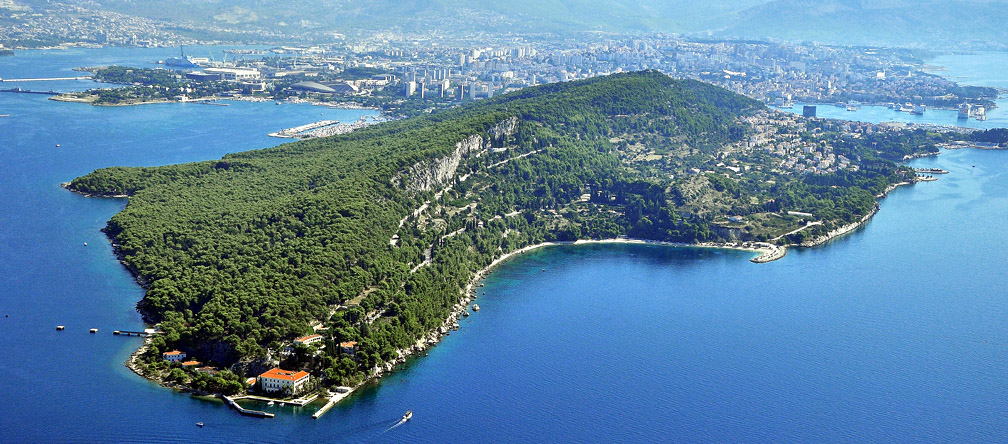 If you think that Split is just a mix of the old town and some modern concrete buildings – you are wrong! Split hosts also a huge park forest called Marjan. This is a place where the locals come to rejuvenate their bodies and souls. They do the bike rides here, go for jogging and hiking. And you should hike it too, since this is definitely a thing to do! There are various walking trails you can take on Marjan hill.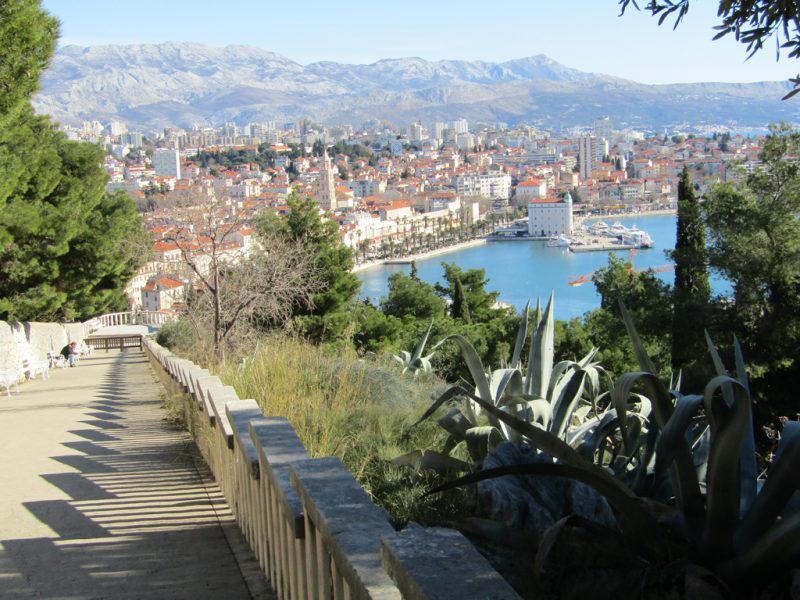 Top Tip
There are many walking trails, but I suggest you to walk along Maragunicevo Setaliste. This trail will give you nicest views, plus you will get to see three medieval churches along the way (churches of St. Nicholas, Our Lady of Bethlehem and the church of St. Jerome). The above picture was taken from the same trail.
8. Visit Mestrovic Gallery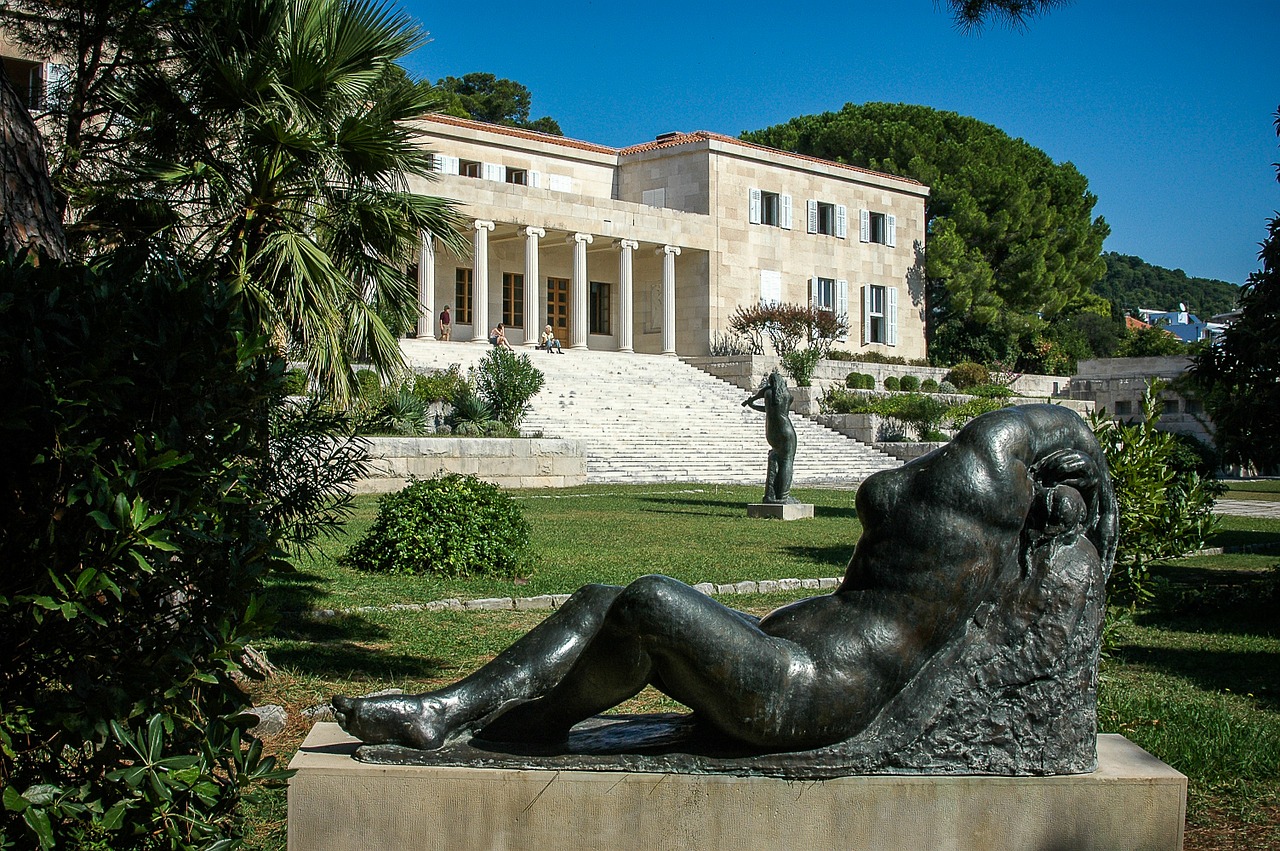 This is for sure a must do thing in Split – a visit to Mestrovic Gallery. Ivan Mestrovic was a great Croatian sculptor, known as Michelangelo of 20th century. He lived in Split for many years. Therefore, his villa is still there. Moreover, in his testament, Mestrovic donated this villa to Croatian people in 1952. Because of that donation, his living place was converted into Mestrovic Gallery where many of his sculptures are being exhibited today.
I am sure that you will appreciate this art in a very unique and beautiful setup. Mestrovic Gallery is overlooking the Adriatic and it's offering some great photo opportunities. Also, there is a beautiful cafe at Mestrovic Gallery, this is a place where you can zip your coffee and chill out in a beautiful environment!
Top Tip
Mestrovic Gallery is located on the south slopes of the Marjan Hill. It is approximately 2.5 km (1.5 miles) away from the old town. There is a long walk to it from the old town. However, you don't have to walk all the way to it. You can simply take a local bus nr. 12 from the monastery of St. Frances on Riva promenade (Sv. Frane in Croatian). Here is a link with the bus 12 timetable.
9. Have a coffee on Riva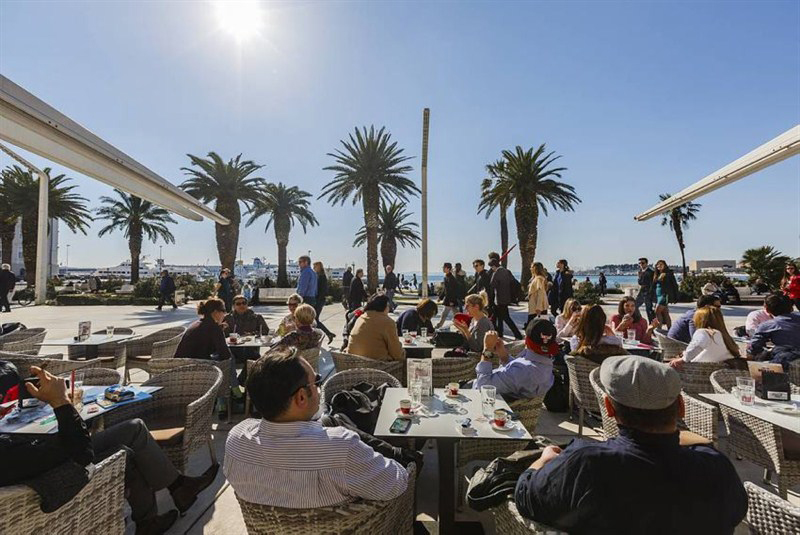 Riva is the main waterfront promenade in Split. Consequently, it is one of the most visited places in town. Definitely, it became the center of social life in this town long time ago. It's possible to have a coffee and soak up the atmosphere of Split right Riva. Mild Mediterranean climate also contributes to the great local experience. If you like people watching, this is the place for you!
Top Tip
In terms of service – cafes on the main promenade are not the best in town. However, pick any cafe because Riva promenade has great scenery. You don't want to miss it, just relax and enjoy!
10. Touch the toe of Gregory of Nin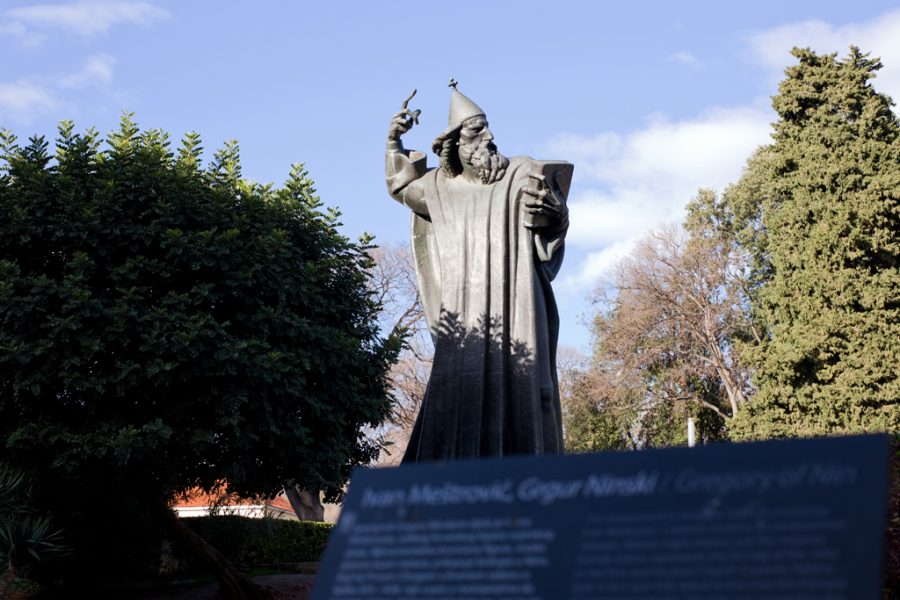 Statue of Gregory of Nin is a masterpiece of the famous sculptor Ivan Mestrovic. Mestrovic lived in Split for a long time and, because of that, a lot of his artwork is still in Split. Statue of Gregory was made in 1929, and since then, it is one of the symbols of Split. Gregory of Nin was a bishop of the Croatian church at the beginning of the 10th century. Since he was in charge of Croatian church, he fought for the use of Croatian language among the clergy. However, supporters of the Latin language in the church service prevailed. As a result of that Gregory had to abdicate and had to leave his position of a bishop.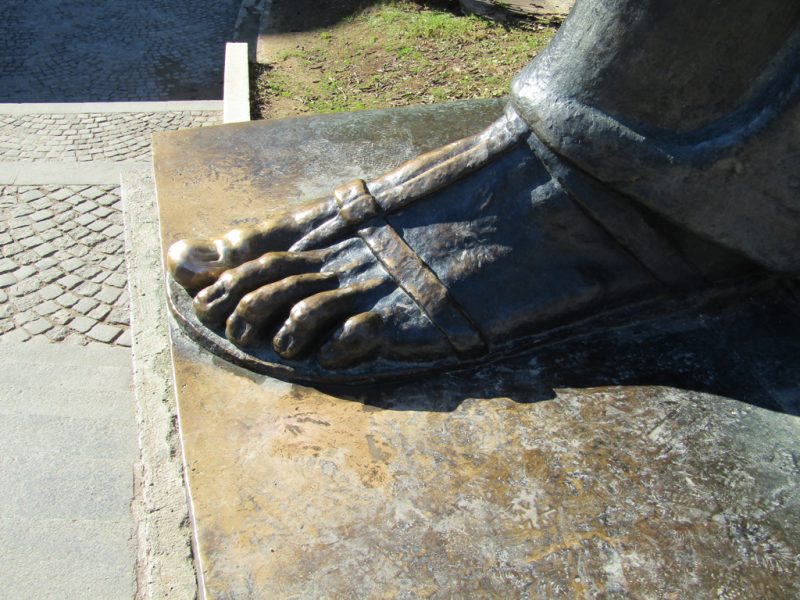 This massive statue was made of bronze and it is 7.5 meters tall (25 feet). In addition to that, this statue has a very impressive toe on its left foot.
Top Tip
Touching the toe of the bishop Gregory is a top must do thing, not only in Split, but in Croatia as well. Therefore, it should be on your bucket list. Locals tend to think (due to some local superstitious beliefs) that the touching of this toe will bring them luck (it's like a good luck charm). I have tried this many times, but this has never worked for me. However, it might work for you dear traveler, come visit us and try!
FAQ
Is Split in Croatia safe?
Yes, Split it safe. Generally speaking, Croatia as a country is safe. Street crime rate is low. However, there are some areas in Split where some incidents/brawls were reported (i.e. Bacvice beach area with its clubs).
Is Split in Croatia worth visiting?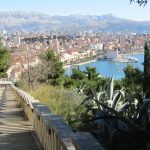 Yes, you should definitely visit Split in Croatia. This city is the second largest in Croatia, located on the beautiful Adriatic coast. Split has really unique history and it is a combination of ancient and modern (city sprawled from the palace of the Roman Emperor Diocletian). Plus there are other beautiful sites in Split like: Mestrovic Gallery, Marjan hill, beautiful beaches etc…
Is Split in Croatia expensive?
This depends on where you come from and what your income is. Just kidding! I would just say that Split is not as expensive as some towns in western Europe. However, Split is more expensive than many towns in central and eastern Europe. Of course, cost always depends on what you do in Split and on the type of your traveling preferences.
Is Split or Dubrovnik better?
This is a tough question since both towns are magnificent. Although Dubrovnik is probably the most visited town in Croatia, I would give slight advantage to Split. I prefer Split because of its better location, vibe, friendly locals and magnificent history. I say, Split is better than Dubrovnik!
Conclusion
Citizens of Split always say that this is the most beautiful city in the world. It is very hard to dispute them because of two reasons: 1.city itself is incredibly beautiful, 2. it is very hard to argue with them (they are indeed stubborn local patriots).
However, I tend to agree with the people from Split since I am a local too! It is truly a pleasure to live here, I enjoy every day in this magnificent place. And I have only one suggestion for you: Put Split on your bucket list when visiting Croatia. This is definitely a place you should not miss. I hope that this article will help you explore it. Take care, I wish you all the best dear reader!